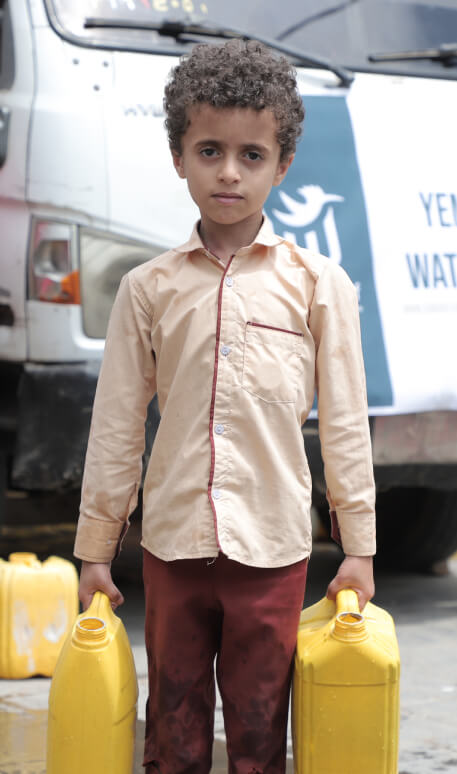 Water is a basic human right and is crucial to survival. Yet millions of vulnerable people in Yemen bear the brunt of drought and water shortage and often travel long distances to safe water.
Saba Relief's water projects aim to establish a sustainable water network in Yemen, distribute hygiene kits, and educate the population about safe hygiene practices to promote healthy and safe lives.
Yemen is a Water-Scarce Country
Due to years of conflict and disaster, Yemen has been severely affected by water scarcity. As a result, about 17.8 million people in Yemen lack access to clean water and adequate sanitation, risking millions of innocent lives.
Moreover, the current water network is barely sufficient for less than 30% of Yemeni population, forcing countless women and children to travel miles to fetch clean water.
Saba Relief Works To Provide Safe Water Sources in Yemen
Saba Relief works to establish and maintain clean water sources for the struggling communities in Yemen. Our projects aim to make clean drinking water accessible to as many people as possible.
Provide Life-Saving Support For Just £10 a month
19.3M People are Struggling
Currently, more than half the population of Yemen – about 19.3 million people – struggle to find clean drinking water. By contributing to our water programme, you help Saba Relief install sustainable water sources and improve lives in Yemen.
More Than Half a Million Children Die Due to Diarrhoea
It's crucial to distribute safe water to communities to prevent the outbreak of water-related diseases such as diarrhoea and cholera. Help us make clean water accessible for the people of Yemen.
Saba Relief Provides Reliable Water Sources in Yemen
Saba Relief is committed to providing reliable and sustainable water supplies to help Yemen survive drought and poverty. We also aim to educate people about hygiene awareness to promote safe lives.